How to convert Employee account into Super admin account?
There are two ways to convert an employee's account into a Superadmin account :

First way :

Go to employee module > Select employee> Personal Information> Change Login rights to Super admin.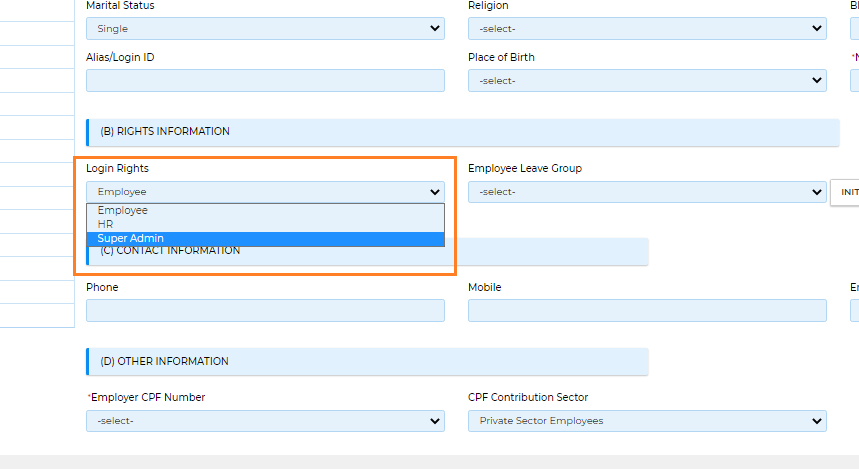 Second Way :
Go to Admin module > Manage company> User Set up > Select employee> Change user group


Related Articles

Why Super Admin user can't be deleted from the system?

At the time when any new company is created super admin account is automatically created so in order to remove that super admin account, you have to create a new super admin after then we can delete the previous super admin and the new super admin ...

How to change the password of the employees and the super admin?

There are many ways to change/reset the user password. Employees typically have their own user accounts. They should log in using their own credentials. but employees forget their password need to follow these steps to reset the password. 01. Login ...

How to view employee salary?

To check the basic salary via the super admin account, go to Employee > edit > Progression info. The Super Admin user can see employee's salary information In case needs to check the calculated/processed salary for a particular month for an ...

How to Setup IRAS for the Employee

To set up the IRAS follow the given steps: Step 01: Go to the "Reports" module and select the "IRAS" from the drop-down list. Step 02: The system will prompt with the IRAS Log in page. Log in with the "Super Admin" account User Name & Password. EG: ...

How to sign in into my account?

To sign in to the application as an employee, credentials can be sent through the mail to employees by the Superadmin or the user who has admin rights. Enter the username and password and select your company name. Product Version: SMEPayrollTM ...