Payroll payslip can be printed for selected month and year.
To print the payslip
for all the employees follow the given steps:
Step 01:
Go to the "Payroll" module and select the "Print/My Payslip" from the drop-down list.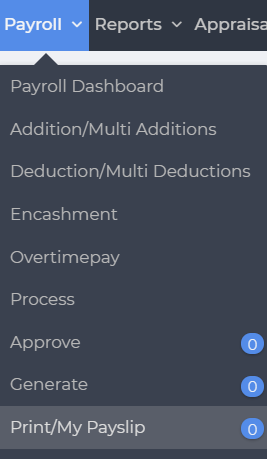 Step 02:
In this "Print Payslip" tab, select "Year", "Month", "Department" and click the "Go" button to view the employee's list.

Step 03:
System will show the record for the selected or all departments.
Select the check boxes corresponding to the employees and click the " PRINT SELECTED PAYSLIP FOR APRIL" button to view all the employee's payslip in one shot.