The user can generate the payroll once the payroll is approved. For this, follow the given steps:
​
Step 01:
Go to the "Payroll" module" and select the "Generate" from the drop-down list.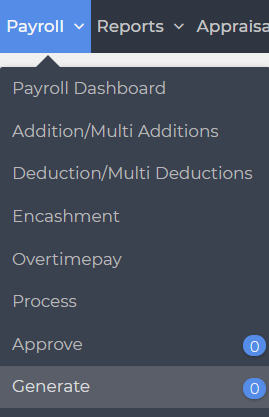 Step 02:
From here select "Year", "Month", "Department", and click the "GO" button.

Step 04:
The system will prompt to the given page. Select the checkboxes corresponding to the employee's name and click the "Generate Payroll" button.
Step 05:
The report can be checked by clicking the "VIEW PAY REPORT" button as shown in the picture before generating the payroll.