To create the AMCS follow the given steps:
Step 01:
Go to the "Reports" module and select the "AMCS" from the drop-down list.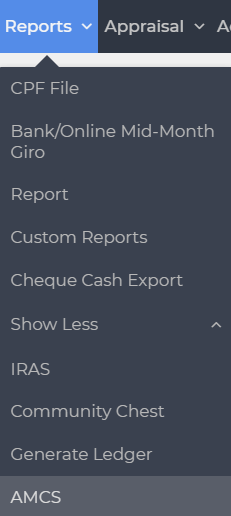 Step 02:
From here go to the "Manage AMCS" tab. Select the "Year", "Month", "CSN", and click the "Go" button.

Step 03:
Now click the "COMPUTE" button at the bottom of the grid to Compute for the employee.

Step 04:
Then Submit it by clicking the "Submit' button.

Step 05:
Once submitted "Successful Alert" appears.
Step 06:
Finally click the "GENERATE" button to generate the AMCS file.